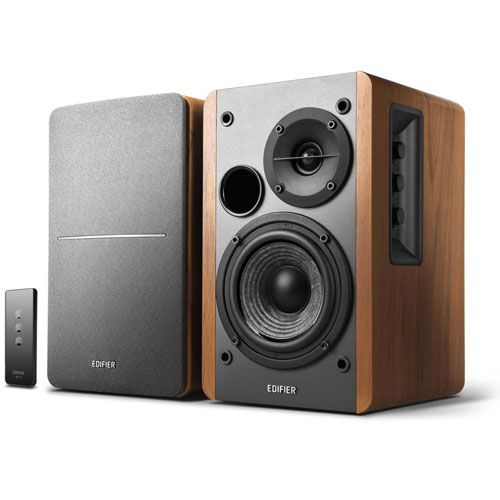 If you want to get the best possible sound when listening to your vinyl records, you will need to invest in the right speakers. In this article we will take an in-depth look at some of the best speakers for vinyl online today.
Our top choice is the Sony SSC5 3-Way Bookshelf Speaker System, which boasts an incredibly robust and well-rounded sound. These speakers will give you a more immersive way to enjoy your favorite records.
We encourage you to look at all of the speaker reviews below before deciding which ones to buy.
A Spotlight On Some of The Best Speakers for Vinyl 2021:
Edifier R1280T Powered Bookshelf Speakers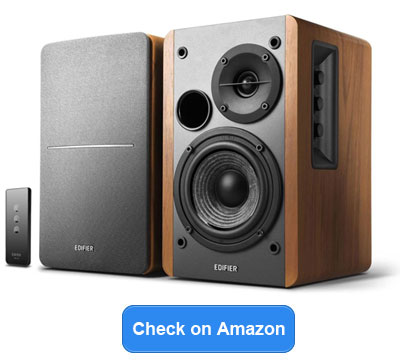 The Edifier R1280T Powered Bookshelf Speakers feature two auxiliary inputs, as well as a standard 3.5-millimeter headphone jack. This allows you to hook up two different devices that have RCA or AUX inputs. You won't have to deal with switching one out for the other, which can get annoying very quickly.
One of the reasons we put this product on our list of best speakers for vinyl is its incredibly natural audio. The 13-millimeter silk dome tweeter is coupled with a four bass driver to deliver impressive sound with all of your records. You'll finally be able to really listen to and appreciate every detail of your favorite albums and artists.
The bass performance that these speakers offer is truly impressive. You'll get a deep and full low end sound with minimal vibration. This might be more beneficial to certain listeners more than others, but it's a good characteristic in any set of speakers.
These speakers come with a remote control, which has an incredibly intuitive and simple design. You can use this remote to adjust the volume, treble, and bass. This gives you a level of convenience that you'll be sure to appreciate on a regular basis. It also allows you to customized the overall sound to your specific preferences.
We also really like the elegant wood finish of these speakers. They are made of high quality MDF wood material, which is very sturdy and aesthetically pleasing.
Measuring 6.9 by 9.5 by 5.8 inches with a weight of 10.8 pounds, these speakers are fairly compact and fit on most full size bookshelves. You therefore shouldn't have any issues with finding a place for them in your home.
Pros
Clean and natural overall sound with high level of detail
Dual RCA outputs allow for hooking up to devices at once
Great low end/bass performance
Elegant wood finish and durable construction
Comes with a two-year warranty
Cons
Volume controls on side of speaker could use some improvement
SINGING WOOD BT25 Bluetooth Powered Bookshelf Speakers
The SINGING WOOD BT25 Bookshelf Speakers offer a variety of connectivity options for use with a variety of devices. There are two sets of RCA outputs for connecting multiple devices. It also has built-in Bluetooth for syncing your phone or tablet to play music wirelessly.
You'll be sure to enjoy the customizable design of these speakers. There are controls on the side of the speaker for the overall volume, as well as the bass and treble. You will even have the ability to mute the audio completely. This makes it easy to get the exact type of sound you want for any given vinyl record or song.
A beautiful wood finish gives these speakers a tasteful and classy overall look. They have a semi-retro design that will be sure to look great wherever you put them in your home.
Measuring 5.23 by 7 by 8.9 inches with a weight of 11 pounds, each speaker is perfectly sized for most standard bookshelves.
The built-in amplifier means that you won't have to spend any extra money to buy an external amp. You can expect a powerful but crisp sound. The 4-inch bass driver as well as the 0.75-inch tweeter works in tandem to provide a high quality sound reproduction.
The impressively versatile design of the Singing Wood BT25 is just one of the reasons we consider it among the best speakers for vinyl. With a frequency response range of 66 Hz through 20 KHz, you'll get consistently great sound quality with all of your music.
These speakers are more than capable of giving you a truly enjoyable listening experience across a wide range of genres.
Pros
Lots of different connectivity options including Bluetooth
Wood finish offers a classy retro look
Built-in amp delivers impressive performance
Excellent sound reproduction from the low to high end
Wide frequency response range means great well-rounded audio quality
Cons
A little distortion at high volume levels
Klipsch R-41M Powerful Detailed Bookshelf Home Speaker Set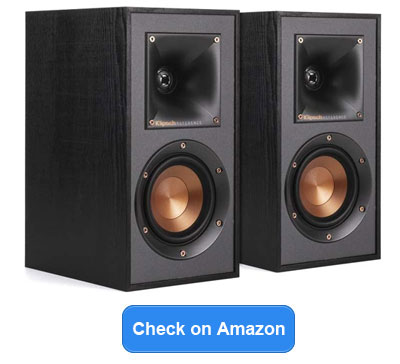 The Klipsch R-41M Bookshelf Home Speaker Set features 1-inch aluminum LTS tweeters to deliver a crisp high end sound. They also have 4-inch IMG woofers to give you full and robust bass performance. The design of the tweeters reduces distortion to give you clean audio reproduction on a consistent basis.
We were also really impressed with the sophisticated woofer design. The Injection Molded Graphite design cuts down on distortion for a pure bass sound that you'll be sure to appreciate.
These speakers use Tractrix Horn Technology to generate absolutely naturally sounding audio with less artificial reverb. This ultimately gives you a high degree of detail to enjoy your records the way they were meant to be.
The sheer durability of these speakers is another important point to consider. Each speaker features a sturdy magnetic grille that can be removed fairly easily. The wood grain material is also considerably tough and doesn't scratch easily. The cabinet itself is reinforced to withstand quite a bit of abuse without any issues.
They have a nice contemporary look with a sleek profile as well. Measuring 7.87 by 5.75 by 11.3 inches with a weight of 7 pounds, these speakers don't take up very much space.
When we were choosing products for our best speakers for vinyl list, the sheer versatility of the R-41M definitely stood out. You'll find that these speakers can accommodate the needs of just about any listener.
Pros
Excellent low frequency respond for great bass sound
Tweeter design gives you clean and distortion-free high end
Uses the latest technology to produce crisp audio with lots of detail
Sleek and contemporary design looks great in any space
Produces great sound quality even at higher volumes
Cons
Doesn't offer many different connectivity options
Fluance SX6WH High Definition 2-Way Bookshelf Speakers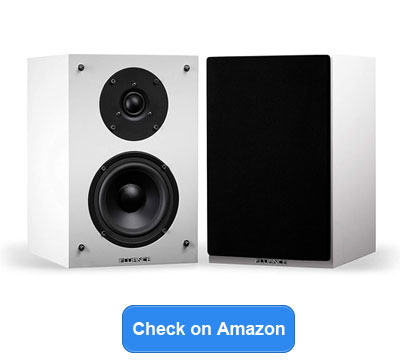 The Fluance SX6WH 2-Way Bookshelf Speakers use high quality parts to generate unbelievably clear and great sounding audio.
The surrounds are made of butyl rubber material, which is very strong and helps enhance performance considerably. There's also the gold plating of the terminals to ensure excellent conductivity at all times. This also provides you with an extremely reliable connection.
These speakers each boast highly durable MDF wood housing that minimizes vibration for a truer overall sound. This material will definitely stand the test of time.
We especially like the 5-inch drivers inside of these speakers. They offer a powerful yet distortion-free bass sound that rounds out the audio for a more satisfying listening experience.
With a frequency response range of 60hz through 20khz, you can definitely expect great performance from the low to high end. The 1-inch tweeter has a soft dome design that provides the listener with a crisp high end sound.
The sturdy metal grilles on the fronts of these speakers can be removed to meet your imaging needs. They are even designed to prevent any magnetic interference whatsoever.
If you are looking for the best speakers for vinyl, the SX6WH is a great choice. You will get a truly immersive surround sound experience for optimal listening.
Pros
Gold plating on terminals for stable connections
5-inch bass drivers for powerful and clean low end performance
Wide frequency response range offers ideal overall sound quality
Sophisticated tweeter design ensures impressive high end audio
Sturdy cabinet design reduces vibration for a clear sound
Cons
Requires an external amplifier
Sony SSCS5 3-Way Bookshelf Speaker System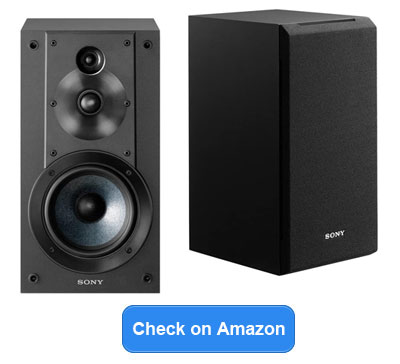 The Sony SSC5 3-Way Bookshelf Speaker System features an impressive bass driver that measures 5 ¼".
It is reinforced with sophisticated foam material for a deep and clean low end sound. This ensures that the woofers retain their normal shape even when the pressure and speed are pushed to the limit.
Each speaker has a standard 0.98-inch tweeter that offers great high end performance. They also feature a ¾" super tweeter that that will bring your listening sessions to a whole new level.
One of our favorite things about these bookshelf speakers is their robust acoustics. This is in large part due to the high quality wood housing that encases the internal components.
Measuring 7 1/8" by 13 ¼" by 8 ¾" with a weight of 9.4 pounds each, these speakers are made for bookshelf storage. They have a simple but modern design that will look great in any room of your home.
There's no question that the SSCS5 is one of the best speakers for vinyl on the internet right now. These speakers will give you a full and immersive sound that is ideal for listening to all different types of music on records. They can also provide you with incredible audio quality with songs in digital format.
Pros
Large woofer drivers offer deep and consistent bass
Very impressive overall acoustics
Features super tweeter for remarkably crisp high end sound
Attractive wood finish and sturdy cabinet construction
Highly immersive 3-way speakers for robust listening experience
Cons
Mid-range performance could be a little better
Best Speakers for Vinyl Buying Guide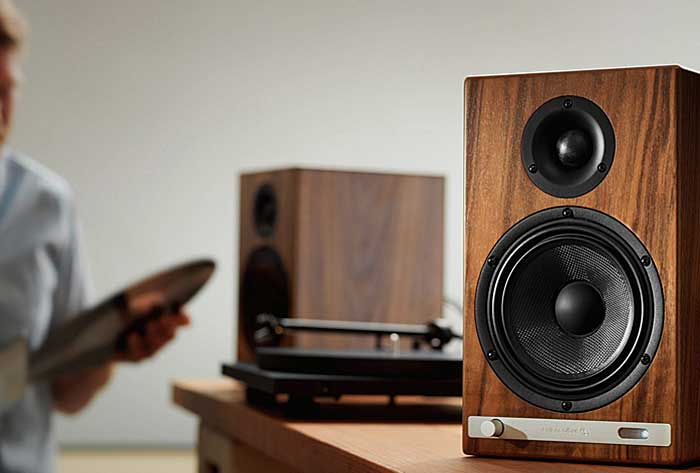 Before you can select the best speakers for vinyl, it is important to take a close look at certain features. We have put together a list for you below that will help in choosing the right speakers to match your needs.
Connectivity Options
As you begin looking into the best speakers for vinyl, you'll want to see which connectivity options each of them offers. This will depend greatly on the model record player you have at home. You'll only want to consider buying speakers that are compatible with your turntable.
We recommend looking at speakers that offer a variety of choices, including RCA outputs. You'll probably want to look for models that have two sets, so you can hook up multiple devices at once.
These days a lot of the best speakers for vinyl also have built-in Bluetooth. This will allow you to connect your smartphone, tablet or other compatible devices without any annoying wires. If you have a record player with Bluetooth capabilities, this is definitely something to consider.
Amp
You will find that many of the best speakers for vinyl have built-in amplifiers. One of the benefits of these speakers is that you won't have to worry about spending extra money on an external amp. You'll want to look for ones that have both a preamp as well as a power amp.
Woofers
The woofers or bass drivers in your new speakers will also be a crucial factor to think about as you do your research. This will determine the quality and depth of the bass sound.
If you are a stickler about low-end performance, you'll want to look for speakers that have 4 or 5-inch woofers. This should provide you with robust bass that will round out the overall sound quite nicely.
Tweeters
The tweeters that are used in any given speaker will play a crucial role in determining what the high end performance will be like. Some of the best speakers for vinyl use neodymium tweeters, as they tend to offer incredibly accurate response. There are even speakers that feature an additional "super tweeter" to ensure crisp and clean highs that sound amazing.
Controls
You should also have a number of controls on your speakers to customize the sound exactly how you want. Keep in mind that the best speakers for vinyl will have knobs for adjusting the volume, as well as the treble and bass. This will allow you to achieve the perfect sound for enjoying your records to the fullest extent.
Size
A lot of the best speakers for vinyl have a compact design that is intended for bookshelves. One of the great things about these speakers is that they give you great sound quality without taking up too much space.
It is important for you to determine where you want to put your new speakers so you know how much room you have. Pay close attention to the measurements/dimensions of these products when researching them online.
Construction
It's also crucial for you to find speakers that have a very sturdy design that will hold up well over time. Some of the best speakers for vinyl have MDF wood housing, which is incredibly durable. This material also helps with minimizing reverb, which can give you better overall sound quality.
Frequency Response Range
The frequency response range of your speakers will directly affect the sound quality throughout the dynamic spectrum. The wider this range is, the better the audio will be from the lows to the highs.
We recommend looking for speakers that have a frequency response of around 40Hz through 20kHz. This will provide you with very accurate reproduction for all of your records.
It is, however, important to think about your own musical preferences. If you like listening to heavy metal for instance, you'll want speakers that have a solid low end frequency.
Wired or Wireless
There are lots of different wired and wireless speakers on the market that are excellent for listening to vinyl records. It is a good idea to consider the advantages and drawbacks of each before making a final decision.
Wired speakers can provide you with a stable and reliable connection. If your turntable is Bluetooth compatible, wireless speakers can be a good option to look into.
Wireless speakers eliminate the need for tangled cords or wires, which is always nice. Many of these speakers can still provide you with a stable signal.
2-Way vs. 3-Way Speakers
Two-way speakers feature only a tweeter and a woofer, while their three-way counterparts offer a bit more. With the latter option you will also get a mid-range driver. This helps with generating a fuller and more robust overall sound.
There is a pretty big difference in price between these two types of speakers. If you can afford to spend a bit more and want a truly immersive listening experience, three-way speakers are ideal. Remember that some of the best speakers for vinyl have a 3-way design, but not all of them are equal.
Conclusion
When trying to get the best speakers for vinyl, you will need to focus on the tweeter and bass driver designs of each one. It's also important to look at the cabinet construction and overall quality of their internal components.
Let us know what you think of our list by dropping a comment below.